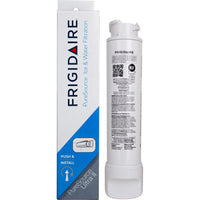 Frigidaire PureSource Ultra II Refrigerator Ice & Water Filter
Frigidaire Electrolux Genuine OEM EPTWFU01 PureSource Ultra II Refrigerator Ice & Water Filter.
Enjoy clean, fresh-tasting water & ice with the Frigidaire PureSource Ultra II water filters.
This water filter cartridge reduces chlorine, particulates, asbestos, benzene, carbofuran, p-dichlorobenzene, lead, lindane, mercury, tetrachloroethylene, endrin, o-dichlorobenzene, VOC, cysts, and some herbicides and pesticides, without removing fluoride. It improves the taste and odour of your water and ice. The Frigidaire PureSource Ultra II Ice and Water Filtration System is tested and certified by NSF International to meet or exceed NSF/ANSI Standards 42 and 53.

The EPTWFU01 PureSource Ultra II fits certain Frigidaire models beginning mid 2015.

Specifications:
Includes: 1 Filter

Filter Life: 6 months or 400 gallons (whichever comes first)

Flow Rate: 0.5 gallons per minute

Operating Pressure: 30-100 psi

Operating Temperature: 33-100 °F

Filter Size:

10-1/8" High x 2-1/8" Wide
How To Replace The Frigidaire PureAdvantage EPTWFU01 Water Filter:

Remove the old filter by rotating it counterclockwise (to the left) 90 degrees to release it.

Remove the used filter by pulling it straight out. (The water shuts off automatically so you don't have to worry about flooding your refrigerator).

Slide the new filter into the filter housing as far as it will go with the grip end horizontal.

Push lightly inward on the filter while rotating it clockwise (to the right). The filter will then pull itself inward as it is rotated. Rotate the filter 90 degrees until it stops and the grip end is vertical. You may be able to feel a very light click as the filter locks into place.

If your refrigerator has a 'Change Filter' light, reset it.

How To Reset The 'Change Filter' Light:

Press the reset button and hold it down until the green light begins to flash (up to 15 seconds).

For best performance and to ensure clean and safe drinking water, it is highly recommended to change your filter every 6 months.
Breathe easy with the PureFilters Promise
Clean water and indoor air are essential to our well-being and Canadians deserve a company that offers products to help them live a healthier life. PureFilters was founded with one mission - to help Canadians enjoy clean and healthy indoor air and water at an affordable price. 
We do this by providing quality products, free shipping across Canada (on orders over $80), hassle-free returns, and superior customer service. If you need help with your order, feel free to contact us via live chat, or email us at support@purefilters.ca.