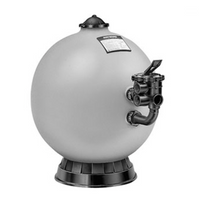 Hayward Pro Series Plus S311SXV - 31" Sand Pool Filter w/Valve
Hayward Pro Series Plus S311SXV - 31" Sand Pool Filter w/Valve
With all the ProSeries advanced features, ProSeries Plus filters are designed to meet the needs of the most demanding applications including large residential and semi-commercial pools, in-floor cleaning systems, solar heating systems and water features. Its spherical tank design evenly distributes the high pressure and stresses associated with these applications, resulting in greater strength and longer life.
Key Features:
Pro Sries Plus 31'' w/ Valve

Durable, corrosion proof materials for dependable all weather performance
Heavy-duty, flanged inspection cover provides convenient access to top of filter
2" internal piping for smooth, free-flowing performance
Automatic air relief purges trapped air during operation
Large pressure sand/water drain for rapid winterizing or servicing
Optional valve and coupling selections for plumbing ease and versatility
Precision engineered umbrella-fold self-cleaning laterals for balanced flow and backwashing
PureFilters - Canada's top pool filter company
We deliver sand pool filters directly to your door to save you time and money. All you have to do is place your order and enjoy your pool - we'll take care of the rest.
Our pool products are sourced directly from certified Canadian manufacturers. We stand behind the quality of our pool filters. If you are not satisfied with your product, simply return it for a full refund - no questions asked. Quality products, fast delivery, and outstanding customer service is what makes PureFilters one of the #1 pool filter suppliers in Canada.