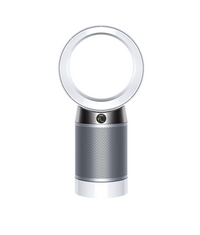 Dyson Pure Cool HEPA Air Purifier & Fan (White/Silver)
Dyson Pure Cool HEPA Air Purifier & Fan (White/Silver)
Dyson Pure Cool HEPA Air Purifier & Fan
The only purifying fan to clean a whole room properly.
Senses pollutants in real time
Captures pollutants with 360° sealed HEPA and activated Carbon filters
Projects powerful airflow
Oscillates up to 350°
Quick and easy filter changing
Weight: 4.65kg
Key Features:
Senses pollutants in real time: Automatically detects and reports air quality levels in real time on PM 2.5, PM 10, VOC, and NO₂.
Captures pollutants with 360° sealed HEPA and activated Carbon filters: The fully-sealed filter system combines an activated Carbon filter to remove gases and a Glass HEPA filter that captures 99.97% of microscopic allergens and pollutants as small as 0.3 microns.
Projects powerful airflow: Air Multiplier™ technology delivers over 290 liters per second of smooth, yet powerful airflow – circulating purified air throughout the whole room.
Intelligent reporting: Automatically senses, captures and projects – then reports to your Dyson Link app.
Oscillates up to 350°: Adjustable oscillation angle from 45° to 350°, to help project purified air around the whole room.
Draft-free backward airflow mode: Purifies without cooling you.
Fan mode: Purifies while also cooling you as a fan.
Quick and easy filter changing: Low maintenance, easily changeable filters. With built-in notifications when they require replacing.
Night-time mode: Monitors and purifies using its quiet settings, with a dimmed display.
Remote control: Curved to store neatly on top of the machine.
Certified Asthma and Allergy friendly™: Dyson purifiers are certified asthma and allergy friendly by the Asthma and Allergy Foundation of America.
#305216-91
Breathe Easy With The PureFilters Promise
Clean and healthy indoor air is essential to our well-being, and Canadians deserve a company that gets it right. PureFilters was founded with one mission - to help Canadians enjoy healthy indoor air at an affordable price. PureFilters sources its products directly from manufacturers, cutting out retailers and passing the savings on to you - our valued customer. 
With Purefilters you get quality products, reliable customer service, free shipping across Canada, hassle-free returns, and a 30-day money-back guarantee. Need help with your order? We're here to help - connect with us via live chat or email us at support@purefilters.ca.