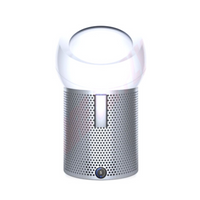 Dyson BP01 Pure Cool Me Air Purifier Fan, White/Silver
Dyson BP01 Pure Cool Me Air Purifier Fan, White/Silver
 * SPECIAL ORDER ITEM - LONGER DELIVERY TIME APPLIES & FINAL SALE *
Key Features:

Personal Air Purification
Oscillating Fan
Sleep Timer
Remove 99.97% of Pollutants
Product Details:
Focused, personal cooling - Delivers purified airflow to cool you.

Removes gases and 99.97% of pollutants - An activated carbon and glass HEPA filter captures gases and 99.97% of particles as small as 0.3 microns

Dyson Core Flow™ technology - Only Dyson personal purifier fans use Dyson Core Flow™ technology. This guides high-velocity air jets over a convex surface. They coalesce to project a focused stream of air.

Precise airflow control - This unique dome mechanism controls the strength of each air jet, so you can direct airflow precisely where you need it.

Smooth oscillation - Set your machine to rotate from side to side, to deliver airflow through a 70˚ range.

Sleep timer - At night, you can set the sleep timer for between 30 minutes and 8 hours. So you can keep cool and comfortable while you rest.

Easy filter maintenance - Built-in reminders show you when your filter needs changing. It's quick and easy to do, to ensure your machine is always working at its best.

275885-01
Breathe Easy With The PureFilters Promise
Clean and healthy indoor air is essential to our well-being, and Canadians deserve a company that gets it right. PureFilters was founded with one mission - to help Canadians enjoy healthy indoor air at an affordable price. PureFilters sources its products directly from manufacturers, cutting out retailers and passing the savings on to you - our valued customer. 
With Purefilters you get quality products, reliable customer service, free shipping across Canada, hassle-free returns, and a 30-day money-back guarantee. Need help with your order? We're here to help - connect with us via live chat or email us at support@purefilters.ca.