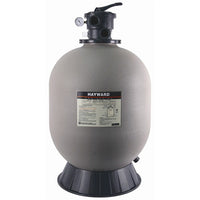 Hayward Pro Series S244TC 24" Top Mount Pool Sand Filter with 1.5" Vari-Flo™ Multiport Control Valve
Hayward Pro Series S244TC 24" Top Mount Pool Sand Filter with 1.5" Vari-Flo™ Multiport Control Valve
The Pro Series filter features an integral top diffuser that evenly distributes unfiltered water over the sand media bed in a cascading, umbrella-like pattern. This allows the greatest filtration possible from every square inch of sand. Then the self-cleaning underdrain assembly, with its 360deg slotted laterals, provides a fast, balanced flow of clear water back to the pool while allowing for more thorough backwashing. Best of all, the Pro's full-flow technology reduces your energy costs because the filter operates for shorter periods.
Seven-position valve puts you in control. The patented, multiport control valve developed by Hayward was designed with seven pool filter positions. An easy-to-use lever-action handle lets you quickly dial any function.
Long-lasting convenience. You can easily access the Pro Series filter assembly for simple servicing via the unique folding ball joint in the laterals. A corrosion-proof housing protects the filter from severe weather for years to come.
Key Features:
Pumps and filters are performance-matched to provide maximum flow and energy efficiency

Filter bases are molded of rugged ABS for long lasting, all-weather performance

7 position PermaGlass XL Vari-Flo valve provides maximum flow at low pressure drop.

Optional microprocessor pump timer available

Systems are designed for quick assembly and precise alignment of components

Effective Filtration Rate: 3.14 ft2

Design Flow Rate: 62 GPM

Sand Required: 300 lbs.
PureFilters - Canada's top pool filter company
We deliver pool sand filters directly to your door to save you time and money. All you have to do is place your order and enjoy your pool - we'll take care of the rest.
Our pool products are sourced directly from certified Canadian manufacturers. We stand behind the quality of our pool filters. If you are not satisfied with your product, simply return it for a full refund - no questions asked. Quality products, fast delivery, and outstanding customer service is what makes PureFilters one of the #1 pool filter suppliers in Canada.