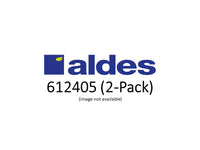 Aldes 612405 Replacement Filter (2-Pack)
Aldes 612405 Replacement Filter (2-Pack) 
Improve your indoor air quality with the Aldes 612405 Replacement Filter (2-Pack). This product is a genuine Aldes product, sourced directly from the manufacturer.

Foam filter kit
Size: 7‐1/16" x 11‐1/2"
Fits/Compatible with: 7240, 7260, 7261, E130, H130
Pack of 2 filters
Brand: Aldes 
Not sure when to change your furnace filter? Check our guide on how often you should change your furnace filter.
Not sure which MERV rating you should choose? See our MERV rating comparison chart.
Not sure if this is the correct furnace filter size? Our nominal vs actual filter size can help.


PureFilters is Canada's #1 furnace filter company
We offer affordable and quality products, hassle-free returns, and reliable customer service (via chat/phone/email). Should you have any questions,  the PureFilters team is here to help. 
PureFilters - keeping your air fresh, without the stress.