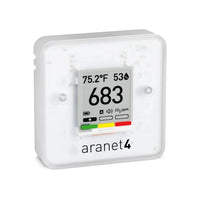 Aranet4 Home: Wireless Indoor Air Quality Monitor
Aranet4 Home: Wireless Indoor Air Quality Monitor
The Aranet4 HOME sensor is an easy-to-use battery-powered CO2 level monitoring device for indoor use. Meter additionally measures temperature, humidity, and atmospheric pressure. It's equipped with two types of indicators to warn about the state of the air quality.
Monitors indoor air quality - CO2, temperature, relative humidity, and the atmospheric pressure
Visual and Sound Warnings when CO2 concentration gets too high
Power-efficient gadget with up to 4 years long battery life
Ultra-portable form factor and very simple to use
Aranet4 app helps to follow historical air quality data and adjust device settings
Uses the nondispersive infrared (NDIR) sensor to measure CO2
The small form factor makes Aranet4 very portable. Take it with you, and be aware of the indoor air quality around you!
Breathe easy with the PureFilters Promise
We're so confident in our promise that if you don't absolutely love this indoor air quality monitor, we'll give you your money back. No questions asked!
If you need assistance with your order, we're also here to help. Feel free to contact us .