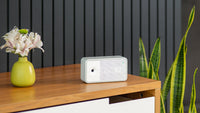 Awair Element - Indoor Air Quality Monitor
Awair Element - Indoor Air Quality Monitor
Everyday activities and household products can cause your indoor air quality to be up to five times more polluted than outdoor air. The Awair Element monitors, temperature, humidity, carbon dioxide (CO2), chemicals (VOCs), particulate matter (PM2. 5) and gives you real-time insights about your indoor air quality.
If you're looking to improve your sleep quality, gain relief from indoor allergy symptoms, manage eczema and asthma triggers, or protect your health, the Awair Element can give you the insight you need to create a healthier environment.
Know your air- Track temperature, humidity, carbon dioxide (CO2), chemicals (VOCs), and particulate matter (PM2. 5) in your home.
Get Actionable Realtime Data - 

 get exact air quality metrics with instant readings on the monitor, on your Awair Home phone app while away from home, and track changes over time.

Get Notified - Take action with 

air quality problem notifications, and 

personalized recommendations for keeping your air clean and safe. 
Sleek and Simple - Designed for easy setup, the Awair Element, and Awair Home app will have you up and running in minutes.
Word-Class Technology - Harness the power of Awair's IAQ technology that has been perfected and optimized for use in homes just like yours.
Breathe easy with the PureFilters Promise
We're so confident in our promise that if you don't absolutely love this indoor air quality monitor, we'll give you your money back. No questions asked!
If you need assistance with your order, we're also here to help. Feel free to contact us anytime.