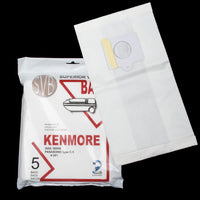 BA261 Kenmore Paper Bag Type 5055 50403 50558 50557 Also Fits Panasonic Canister C5 SVB C18 Whispertone LG VC4351 MCCG902 **5 Pack**
BA261 Kenmore Paper Bag Type 5055 50403 50558 50557 (Also Fits Panasonic Canister C5 SVB C18 Whispertone LG VC4351 MCCG902) Pack of 5

Get the BA261 Kenmore paper bags shipped right to your door, anywhere in Canada today. 
High-quality manufacturing replacement vacuum bag 

BA261 Kenmore Paper Bag
Type 5055 50403 50558 50557
Compatible with Panasonic Canister C5 SVB C18 and Whispertone LG VC4351 MCCG902
Pack of 5 vacuum bags

Provides exceptional air flow while minimizing the loss of suction as the bag fills




For optimum performance and minimal foul odour, change bag every 1-2 months or when 3/4 full

Store unused vacuum bags in a clean, dry place.
Indoor air quality is essential to our well-being, and Canadians deserve a company that gets it right. PureFilters was founded with a mission - to help Canadians enjoy superior indoor air quality, at an affordable price. We source and ship directly from Canadian manufacturers and pass the savings on to you, our valued customer. 
Why PureFilters is Canada's #1 vacuum bag company
From hassle-free returns to instant responses via chat/phone/email, our PureFilters team goes above the call of duty to keep your home clean and air fresh without the stress. Be sure to check out the PureFilters Blog - Use Tips and Information On Indoor Air Quality
If you need help and prefer to speak to someone, please feel free to contact us anytime!
Experience the cleanest air in your home today, without paying a premium price for it.
PureFilters - keeping your air fresh, without the stress.