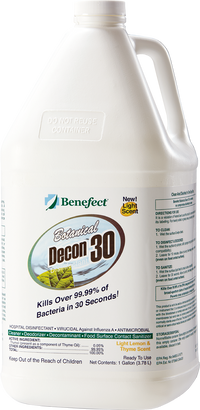 Benefect Botanical Decon 30 All-Natural Hospital Grade Disinfectant
Benefect Botanical Decon 30 Is A Powerful Disinfectant Without The Harmful Chemicals
A new innovative one-step disinfectant cleaner specially formulated for the Canadian homeowner. The Benefect Botanical Decon 30 is a well-rounded cleaning product that's tough on bacteria and viruses. 

Light Scent - Pleasant Aromatherapeutic Vapors
Effective - Kills over 99.99% of bacteria in 30 seconds!
All Natural - No Synthetic Fragrances, Dyes or Bleach
Trusted - Health Canada Certified and Used in Hospitals
Typical disinfectants require 10 minutes contact time, which is difficult to achieve on vertical surfaces and materials. The Benefect Decon 30 solves this problem by being specially formulated to kill gram-negative and gram-positive bacteria with a more realistic contact time of just 30 seconds!
No Rinsing, Wiping or Mixing Required - Incredibly Simple To Use
You can now use a product that doesn't require a rinse or wipe. It is also suitable for use around children, pets, the elderly and chemically-sensitive individuals, so you can relax about chemical contamination, overspray & evacuating building occupants.
No synthetic chemicals
No label warnings or precautionary statements
No personal protective equipment required
No evacuation of building occupants required
No rinsing or wiping required, even on food contact surfaces
No mixing required
It's very simple - apply the solution on the surface you would like to disinfect and leave it for 30 seconds. That's it, it's really that easy.
Part Of Our Botanical Cleaning & Disinfection Solution
As a homeowner, you can rest assured that Benefect has been reviewed for safety, efficacy & environmental impact by Health Canada and therefore you can trust what the label says. Naturally, Benefect's botanical ingredients give it some distinct advantages.
The Decon 30 uses the same proprietary Botanical Active Ingredient Benefect is known for – Thymol present as a component of Thyme Oil. We formulate with whole essential plant oils, not synthesized copies of the chemicals found within the oils - we think the authentic way is the right way!

Decon 30 combines powerful botanical cleaning surfactants with the proven killing ability of Benefect's Active Ingredient to clean and disinfect in one easy step! This makes Decon 30 ideally suited for general decontamination of any surface inside your home.