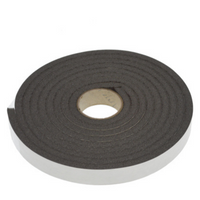 Climaloc Foam Tape, Black, 1/4" x 3/4" x 9.8'
Climaloc Foam Tape, Black, 1/4" x 3/4" x 9.8'
Climaloc Closed cell foam tape




Dimensions: 1/4'' x 3/4'' x 9.8' (6 mm x 9 mm x 3 m)

Seals gaps against drafts, dirt, insects, water, light, smell, sound and vibrations
Moderate compression for irregular gaps
Also seals doors
Indoor/outdoor use
Fits gap: 1/8" - 1/4"
Shop with Confidence 
PureFilters was founded with one mission - to solve indoor air and water pollution problems by providing filtration solutions at an affordable price.  We do this by providing Canadians' with quality products, free shipping (on all orders over $80 within Canada), hassle-free returns, and superior customer service. 
If you need help with your order, feel free to contact us via live chat, or email us at support@purefilters.ca.