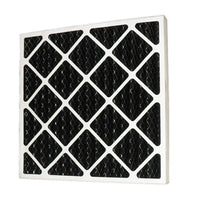 Electro Air W5‐0885 Replacement Filter
Get The Electro Air
W5‐0885 Replacement Filter Delivered To Your Door

Our Electro Air W5‐0885 Replacement Filter will provide you with the cleanest air your home has ever had. This product is a genuine Electro Air product, sourced directly from the manufacturer.

This Filter replacement is shipped from Canada and is built for Canadian homes.

In most home environments, this filter only needs to be replaced every 3-4 months.

FITS THE FOLLOWING MODELS:
Carbon and potassium permanganate VOC postfilter (upgraded 3rd stage), 19‐1/2" x 19‐1/2"  x 2". 
Fits Amana AHEPA550, AHEPA550‐3; 
Carrier CHEPA 550, CHEPA550‐3, CHEPA600M,  CHEPA600M‐3; 
Cinquartz CQHEPA5503; 
Coleman CEHEPA550, CEHEPA550‐3; 
Electro‐Air  EAHEPA550, EAHEPA550‐3, EAHEPA600M, EAHEPA600M‐3; 
Five Seasons FSHEPA550,  FSHEPA550‐3, FSHEPA600M, FSHEPA600M‐3; 
Goodman GHEPA550, GHEPA550‐3,  GHEPA600M, GHEPA600M‐3; 
Rheem RCHEPA550‐3, 
Ruud RCHEPA550‐3; 
Totaline P102‐550,  P102‐550A, P102‐600M, P102‐600MA; 
York YHEPA550,  YHEPA550‐3
Indoor air quality is essential to our well being, and Canadians deserve a company that just gets it right. PureFilters was founded with a mission of making superior indoor air quality simple and affordable. PureFilters sources directly from the manufacturer, saving customers a ton of time and money.
Not sure when to change your furnace filter? Check out our guide on how often you should change your furnace filter.
Not sure which MERV rating you should choose? Check out our MERV rating comparison chart.
Not sure if this is the correct furnace filter size? Check out our guide on nominal vs actual filter size.
Why PureFilters is Canada's #1 furnace air filter company
From hassle free returns, to instant responses via chat/phone/email, our PureFilters team goes above the call of duty to keep your air fresh without the stress. Be sure to check out the PureFilters Blog - Use Tips and Information On Indoor Air Quality
If you need help and prefer to speak to someone, please feel free to contact us anytime!
Experience the cleanest air in your home today, without paying a premium price for it.
PureFilters - keeping your air fresh, without the stress.