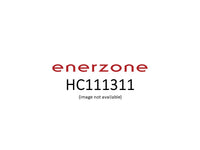 Enerzone HEPA Air Cleaner Replacement Filter (HC111311)
Enerzone HEPA Air Cleaner Replacement Filter (HC111311)
The Enerzone HC111311 is a HEPA filter core for Enerzone HEPA air cleaners. It traps very fine particulate and is the main filter in the air cleaner.
Brand: Enerzone 

Nominal Size: 11" x 13" x 11"

Actual Size: 11-1/2" x 13-1/2" x 11-1/2"

Filter Type: HEPA

Filter Life Span: Replace every 5 years 

Fits Enerzone Models: Venmar 1.2, 3.5 and Enerzone HF120, and HF350
Breathe easy with the PureFilters Promise
Clean indoor air is essential to our well-being, and Canadians deserve a company that offers products to help them live a healthier life. PureFilters was founded with one mission - to help Canadians enjoy clean and healthy indoor air at an affordable price. 
From quality products to hassle-free returns, to superior customer service - our team at PureFilters is ready to help you with your order. Feel free to contact us via live chat, or email us at support@purefilters.ca if you need help with your order.