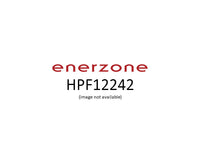 Enerzone Air Cleaner Pleated Media Prefilter (HPF12242)
Enerzone Air Cleaner Pleated Media Prefilter (HPF12242)
The Enerzone HPF12242 is a pleated media prefilter for Enerzone HEPA air cleaners. It traps large particulate before it enters the HEPA core, thereby extending the life of the main HEPA filter.

Brand: Enerzone 
Media Type: 

Pleated Media Prefilter

Merv Rating: MERV 8

Nominal Size: 

12" x 24" x 2"

Actual Size: 

11‐3/8" x 23‐3/8" x 1‐3/4"

Lifespan: 6 Months 

Fits  Enerzone HF240* Regular, HF360* Regular; Venmar 2.4 (*Note:  Both HF240 and HF360 can use either this HPF12242 prefilter along with carbon pad CP12241 in standard configuration or carbon filter CF12242 only in deluxe configuration for greater odour control. You may switch between configurations).
Breathe easy with the PureFilters Promise
Clean indoor air is essential to our well-being, and Canadians deserve a company that offers products to help them live a healthier life. PureFilters was founded with one mission - to help Canadians enjoy clean and healthy indoor air at an affordable price. 
From quality products to hassle-free returns, to superior customer service - our team at PureFilters is ready to help you with your order. Feel free to contact us via live chat, or email us at support@purefilters.ca if you need help with your order.