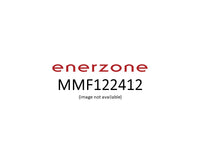 Enerzone Air Cleaner HEPA Filter Cell (MMF122412)
Enerzone Air Cleaner HEPA Filter Cell (MMF122412)
The MMF122412 is a HEPA filter cell for Enerzone mass capacity air cleaners. It traps fine particulate and is the main filter in the air cleaner. This filter is an upgraded filter that replaces the now obsolete MCFC122412 mass capacity filter.
Brand: Enerzone

Filter Type: HEPA

Nominal Size: 12" x 24" x 12"

Actual Size: 11-1/2" x 23-1/2" x 11-1/2" (11-11/16" with foam on bottom)

Lifespan: 5 Years 

Filter fits Enerzone MCF130, MCF300 and Venmar HP 1.3, HP 3.0 
Breathe easy with the PureFilters Promise
Clean indoor air is essential to our well-being, and Canadians deserve a company that offers products to help them live a healthier life. PureFilters was founded with one mission - to help Canadians enjoy clean and healthy indoor air at an affordable price. 
From quality products to hassle-free returns, to superior customer service - our team at PureFilters is ready to help you with your order. Feel free to contact us via live chat, or email us at support@purefilters.ca if you need help with your order.