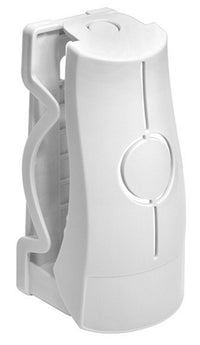 Fresh Products Eco Air 2.0 Dispenser Cabinet, White
Fresh Products Eco Air 2.0 Dispenser Cabinet, White
The Eco Air is a passive air freshening system that delivers a powerful, consistent freshness for 30 days.

It is capable of freshening your largest spaces without any batteries or fans, and in addition to its own dispenser, Eco Air fits in TC®, TimeMist®, Ecolab®, Hospeco®, Kimberly-Clark®, Vectair®, and fan-dispensers.

No matter what you put it in, or where you hang it, the Eco Air cannot break or spill.

It works well in restroom stalls, on restroom walls, conference rooms, entry ways, lobbies, trash rooms, or near soiled linens.

Eco Air is also 100% recyclable and is part of a closed-loop recycling program that allows you to easily recycle.
Breathe Easy With The PureFilters Promise
Clean and healthy indoor air is essential to our well-being, and Canadians deserve a company that gets it right. PureFilters was founded with one mission - to help Canadians enjoy healthy indoor air at an affordable price. PureFilters sources its products directly from manufacturers, cutting out retailers and passing the savings on to you - our valued customer. 
With Purefilters you get quality products, reliable customer service, free shipping across Canada, hassle-free returns, and a 30-day money-back guarantee.
Need help with your order? We're here to help - connect with us via live chat or email us at support@purefilters.ca.