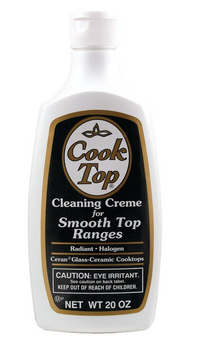 Frigidaire Range Cooktop Polishing Cream (20 oz)
Frigidaire Range Cooktop Polishing Cream, 472ml
Frigidaire Range Cooktop Cleaning Cream, 20oz (567g/472ml).

For use with Radiant, Halogen, Glass-Ceramic Cooktops.

Specially formulated to make glass ceramic shine.

Protects surface while helping make the next cleaning easier
Directions for Use:
Allow surface to cool before cleaning.
For glass ceramic cooktops, remove burned on crust with a scraping blade.
Shake well and apply to surface. Rub vigorously with sponge, soft cloth, or paper towel. Caution: Do not use steel wool or other harmful abrasive pads that could scratch the surface.
Remove excess cleaner and buff with paper towel. Daily use will keep your cooktop looking new and easy to clean.
Breathe easy with the PureFilters Promise
PureFilters was founded with one mission - to help Canadians enjoy clean water and air at an affordable price. 
From quality products to hassle-free returns, and superior customer service - our team at PureFilters goes above and beyond to help you find the right products for your home. If you need help with your order, feel free to contact us via live chat, or email us at support@purefilters.ca.