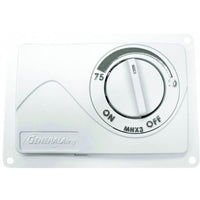 Generalaire MHX3 Humidistat
Generalaire MHX3 Humidistat
The MHX3 control provides low voltage control of most humidifiers
The humidistat uses a SPDT switch and is designed for wall mounting in the living area or mounting on the return air duct


Key Features:
Manual control
Contemporary design
Solid construction
Accurate control sensor
Blank cover version for custom labeling
Easy installation!
Can be mounted on the wall or the duct!


Breathe easy with the PureFilters Promise
Clean indoor air is essential to our well-being, and Canadians deserve a company that offers products to help them live a healthier life. PureFilters was founded with one mission - to help Canadians enjoy clean and healthy indoor air at an affordable price. 
From quality products to hassle-free returns, to superior customer service - our team at PureFilters is ready to help you with your order. Feel free to contact us via live chat, or email us at support@purefilters.ca if you need help with your order.