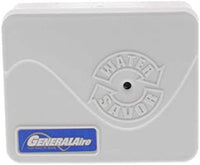 Generalaire Water Savor Humidistat
Generalaire Water Savor Humidistat
The Water Savor™ Controller is an electronic device that controls the amount of water used by a  flow-through by-pass humidifier; part of which would normally be wasted down the drain. When there is a call for humidity, the Water Savor™ Controller cycles 24vac of power to the humidifiers' solenoid valve. Settings can be adjusted to ensure that the humidifier will work at full capacity while also saving the maximum amount of water as possible.  
Brand Name:   Generalaire Water Savor Controller – works with any Bypass
Model:    GF-WSAVOR
Category: Water / any Bypass Flow-Through humidifier
Supply Voltage Required: 24 VAC
Water Efficiency Level: 80-90%
Breathe easy with the PureFilters Promise
Clean indoor air is essential to our well-being, and Canadians deserve a company that offers products to help them live a healthier life. PureFilters was founded with one mission - to help Canadians enjoy clean and healthy indoor air at an affordable price. 
From quality products to hassle-free returns, to superior customer service - our team at PureFilters is ready to help you with your order. Feel free to contact us via live chat, or email us at support@purefilters.ca if you need help with your order.