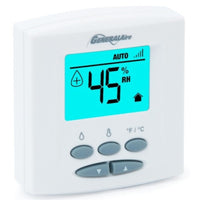 Generalaire GFX3 Automatic Digital Humidistat
Generalaire GFX3 Automatic Digital Humidistat
NOTE: This product was discontinued and replaced with the Generalaire GFX3 Automatic Digital Humidistat
Replacement Automatic Digital Humidistat.

Can be wall or duct-mounted.

Comes with an outdoor air sensor and mounting plate.

Adjustable in 1% increments.

When installed with the included outdoor air sensor, this control automatically lowers and raises the indoor humidity setting based on the outdoor air temperature allowing you to set it and forget it.
Breathe easy with the PureFilters Promise
Clean indoor air is essential to our well-being, and Canadians deserve a company that offers products to help them live a healthier life. PureFilters was founded with one mission - to help Canadians enjoy clean and healthy indoor air at an affordable price. 
From quality products to hassle-free returns, to superior customer service - our team at PureFilters is ready to help you with your order. Feel free to contact us via live chat, or email us at support@purefilters.ca if you need help with your order.