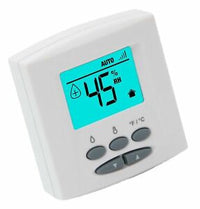 Generalaire GFX4 Automatic Digital Humidistat
Generalaire GFX4 Automatic Digital Humidistat (Controls the Furnace Blower Motor)
Features:
The GFX4 controls the furnace blower motor to maintain more consistent humidity levels.
Automatically adjust your humidity level by reading outdoor temperatures when you install the included Outdoor Sensor.  
OR, control your humidity levels manually. Simply don't install the Outdoor Sensor.
Features easy-to-read and understand LCD Readout Display.
You can calibrate the GFX4 in the field to match existing appliances in the home.
The GFX4 is one the most accurate in the market:  RH (77°F, 25C) 10%-90%±3%RH.
Mount the GFX4 on the wall or directly in your duct.  The GFX4 reads humidity levels accurately no matter the installation, due to extensive venting that more accurately samples the room's air.
The GFX4 boasts an extended humidity range:  from 10% to 75%.  
Specs:
Voltage:  18-30 VAC, 60 Hz
Switching load:  1 amp maximum 30 volt
Dimensions (inches):  3 3/4 H x 31/2  W
Outdoor Sensor Length (feet/meters):  200 / 61
Accuracy:  RH (77°F/25°C) 10%-90% +/-3%RH
Accuracy drift per year:  +/- 0.5%RH
Accuracy indoor temperature:  +/- 2°F / -1°C
Relay close:  setting -1%RH
Relay open:  setting =1%RH

Auto mode:

Control range:  10% - 60%RH

Manual mode:

Control range:  10% - 75%RH

Warranty (years):  1