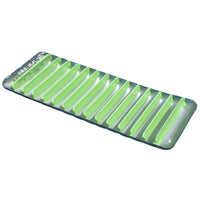 Green Deluxe Inflatable Mattress Pool Float
Green Deluxe Inflatable Mattress Pool Float
The Swimline Deluxe Inflatable Mattress measures 76 inches in length and 29 inches wide, making it the perfect way to keep cool in the hot summer sun!
The attractive and comfortable float features a reflective design that helps repel heat to keep you cool while you soak up some rays. The stylish pool lounge is green in colour and has horizontally-oriented air chambers for maximum comfort. The top chamber is made slightly larger than the rest of the air pockets, acting as a small pillow, and inflates quickly to get you into the water faster.
PureFilters - Canada's Top Pool Supply Source
We deliver affordable pool filters & pool supplies directly to your door to save you time and money. This allows you to focus on what really matters - enjoying your pool. Quality products, fast delivery, and reliable customer service; have helped us become one of Canada's top pool suppliers in Canada. Find out for yourself by shopping with us. 
If you need help placing an order, feel free to reach out via our live chat or at support@purefilters.ca.