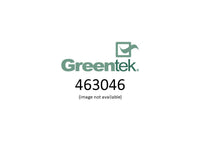 Greentek 463046 MERV 8 Replacement Filter
Get The Greentek 463046 MERV 8 Replacement Filter  Delivered To Your Door
This product is a genuine Greentek product, sourced directly from the manufacturer.
MERV 8 prefilter with carbon (1st and 2nd stage), 11‐1/2" x 15‐1/2" x 1‐3/4". 
Fits Coleman S1‐ HEPA300; 
Fantech HERO HS300; 
Generalaire AC500; 
Greentek HS 3.0;
Imperial 300T, HS 3.0,  IFB6; 
Luxaire S1‐HEPA300; 
Premier One HEPA 500, HP500; 
Sanuvox S300FX‐GX, S300HFX; 
Source1 S1‐HEPA300; 
York S1‐HEPA300
PureFilters is Canada's #1 furnace air filter company
From hassle-free returns to instant responses via chat/phone/email, our PureFilters team goes above the call of duty to keep your air fresh without the stress. 
If you need help and prefer to speak to someone, please feel free to contact us anytime!