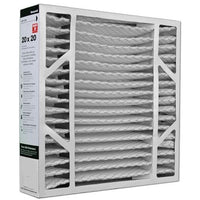 Honeywell FC200E1011 - Pleated 20x20x4 MERV 13 Air Filter
Honeywell FC200E1011 - Pleated 20x20x4 MERV 13 Air Filter 
Get the Honeywell FC200E1011 - Pleated 20x20x4 MERV 13 Air Filter delivered to your door.
MERV 13
Nominal size 20" x 20" x 5"
Actual size 19‐7/8" x 19‐5/8" x 4‐3/8"
This filter fits the following:
Honeywell F100B1024, F100F1020, F100F2036, F150E1018, F200E1011, F25A1050, F25F0118, F25F1059, F35F1016
Lennox HCC14-23
Breathe easy with the PureFilters Promise
Clean indoor air is essential to our well-being, and Canadians deserve a company that offers products to help them live a healthier life. PureFilters was founded with one mission - to help Canadians enjoy clean and healthy indoor air at an affordable price. 
From quality products to hassle-free returns, to superior customer service - our team at PureFilters is ready to help you with your order. Feel free to contact us via live chat, or email us at support@purefilters.ca if you need help with your order.