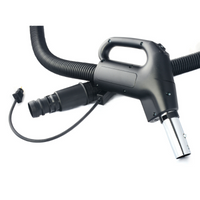 Ghibli Compatible 7' X 1 1/4" Electric Hose for Vacuum Model AS5
Ghibli Compatible 7' X 1 1/4" Electric Hose for Vacuum Model AS5
7' 1 1/4" Electric Hose to fit Ghibli AS5

Fits vacuum models: Ghibli vacuum model AS5

Quantity: 1

Made from high grade material to ensure durability.

Picks up the tiniest of particles with ease from any surface (carpet, tiles, wood floors, laminate floors or concrete) while still being gently on surfaces.

UPC: 793269689399

SKU # HZAS5
Kit Components:
XGB12512 Ghibli Cord 22" Male Female 2 Pin Polarized AS5 JV5 Receptacle to Hose Large Male Pins
XGB2005363 Ghibli Machine end for Hose AS5 11943
HZ707 Electric Hose 7' X 1 1/4" With Gas Pump Handle Black Crushproof No Machine End Has Male Recp NUMATIC NVH380
The PureFilters Promise 
Indoor air quality is essential to our well-being, and Canadians deserve a company that gets it right. PureFilters was founded with one mission - to help Canadians enjoy healthy indoor air at an affordable price. PureFilters sources vacuum accessories directly from reliable Canadian manufacturers, and passes those savings on to you  - our valued customer.