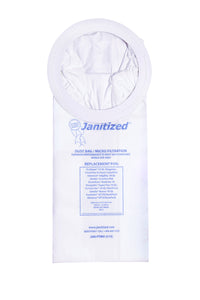 JAN-PTMV-2(10) Janitized Paper Bag Proteam Mega VAC, Coach & Super Coach Micro Filter Case Of 10
JAN-PTMV-2(10) Janitized Paper Bag Proteam Mega VAC, Coach & Super Coach Micro Filter Case Of 10 10pks OEM# 450243 Or 100331 Bissell Model 37491 BG1001 OEM# 25602 Or PKBP10 Clarke Comfort Pak 10 OEM# 1471097500 Or 1471097510 Sanitaire Quiet Clean SC530 OEM# BV-3 Or 62135 Euroclean Backpack 10 OEM# 1471097500 IPC Eagle BP10 OEM# FXL12006 Mastercraft Enviromaster Probe 10 OEM# 273511 Mosquito Supervac Superhepa BP 10-QT OEM# 10-1041 Advance Agility 10 QT Backpack OEM# 1471097500 Or 1471097510 Perfect VAC Model PB1001 Backpack 10 QT OEM# 101394 Sandia Raven 10 QT OEM# 10-0006 WINDSOR VP10 Backpack OEM# 8.619-885.0 Or 68005

Get the JAN-PTMV-2(10) Janitized shipped anywhere in Canada today. High-quality manufacturing to ensure a long-lasting replacement bag for your vacuum.
JAN-PTMV-2(10) Janitized Paper Bag Proteam Mega VAC, Coach & Super Coach Micro Filter Case Of 10 10pks OEM# 450243 Or 100331 Bissell Model 37491 BG1001 OEM# 25602 Or PKBP10 Clarke Comfort Pak 10 OEM# 1471097500 Or 1471097510 Sanitaire Quiet Clean SC530 OEM# BV-3 Or 62135 Euroclean Backpack 10 OEM# 1471097500 IPC Eagle BP10 OEM# FXL12006 Mastercraft Enviromaster Probe 10 OEM# 273511 Mosquito Supervac Superhepa BP 10-QT OEM# 10-1041 Advance Agility 10 QT Backpack OEM# 1471097500 Or 1471097510 Perfect VAC Model PB1001 Backpack 10 QT OEM# 101394 Sandia Raven 10 QT OEM# 10-0006 WINDSOR VP10 Backpack OEM# 8.619-885.0 Or 68005


Indoor air quality is essential to our well-being, and Canadians deserve a company that just gets it right. PureFilters was founded with a mission of making superior indoor air quality simple and affordable. PureFilters sources Vacuum bags directly from the manufacturer, saving customers a ton of time and money.
Why PureFilters is Canada's #1 vacuum bag company
From hassle-free returns to instant responses via chat/phone/email, our PureFilters team goes above the call of duty to keep your home clean and air fresh without the stress. Be sure to check out the PureFilters Blog - Use Tips and Information On Indoor Air Quality
If you need help and prefer to speak to someone, please feel free to contact us anytime!
Experience the cleanest air in your home today, without paying a premium price for it.
PureFilters - keeping your air fresh, without the stress.