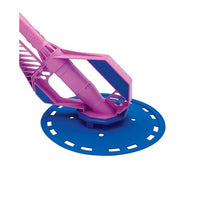 Jandy Baracuda 1500 Auto Pool Cleaner
Jandy Baracuda 1500 Auto Pool Cleaner
The Ranger is an affordable, dependable automatic pool cleaner that will thoroughly clean your aboveground pool—removing dirt, debris, bugs, twigs, leaves, and even pebbles. Requires no extra plumbing or additional energy cost. Installs in minutes and comes pre-assembled in the box, just attach the hose and start cleaning. Flowkeeper™ Valve automatically regulates water flow, ensuring peak performance. The Ranger is built to work quickly, effectively, and quietly.
Features:
Extra Large wheel Deflector - Helps the Ranger from getting caught on steps, ladders or in corners so it can keep on cleaning your pool.

Quick Release Cassette and Diaphragm (inside) - The Ranger features one operational moving part. No gears, wheels or flappers means simple operation and maintenance.

AG Disc - Allows the Ranger to glide effortlessly along the bottom of your pool, up the sides and around steps, cleaning your whole pool.

Quiet Operation - Other cleaners make an annoying flapper or hammer noise. The Ranger was built to work quickly, effectively and quietly.

Suction Cleaner

Works in all aboveground pools

Connects directly to skimmer

Includes 32 ft. of feed hose
PureFilters - Canada's Top Pool Supply company
We deliver affordable pool filters & pool supplies directly to your door to save you time and money. This allows you to focus on what really matters - enjoying your pool. Quality products, fast delivery, and reliable customer service, is what makes PureFilters one of Canada's top pool suppliers in Canada. If you need help placing an order, feel free to reach out via our live chat or at support@purefilters.ca.