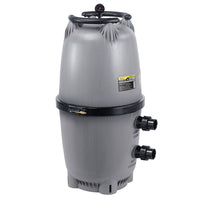 Jandy CL460 - Pool Cartridge Filter 460Sqft
Jandy CL460 - Pool Cartridge Filter 460Sqft
Zodiac CL Series Cartridge filters set the benchmark for large cartridge filtration.
Our filter design takes advantage of the filter's total surface area, providing you with the clearest possible water and extended cleaning cycles. Enjoy the clear sparkling water of your pool and spa while the CL filter is working for you.
This filter is equipped for high flow rates and optimum hydraulic performance. CL large cartridge filters are constructed of durable, corrosion resistant, heavy duty high-tech polymeric materials for long-lasting performance.
Zodiac's large cartridge filters are technologically advanced and filled with many user-friendly features.
Key Features:
Sweep Elbow and unions allow the filter to easily connect to Jandy® Pro Series pumps and equipment.
2" x 2.5" universal unions and easy-grip handles on the tank lid make filter installation and cleaning easy.
Unique pressure gauge features a clean/dirty indicator that can be customized for each pool, making it easy to assess filter cartridge condition.
Optional anchor brackets easily attach to the filter tank and mount to the pad to hold the filter securely in place. These brackets are sold separately as an accessory.
We offer a choice of 340, 460, and 580 square foot models.
Easy-grip handles
Clean/Dirty indicator on pressure gauge
Extra-large 2" drain port allows for easy cleaning of debris
Heavy duty, anti-corrosion tank clamp
Corrosion and UV resistant, high impact tank
Includes 2" x 2 1/2" universal unions
PureFilters - Canada's top pool filter company
We delivered pool filters directly to your door to save you time and money. All you have to do is - enjoy your pool!
Our pool products are sourced directly from certified Canadian manufacturers. We stand behind the quality if our pool filters. If you are not satisfied with your product, simply return it for a full refund - no questions asked. Quality products, fast delivery, and outstanding customer service, is what makes PureFilters one of the #1 pool filter suppliers in Canada.
Breathe easy with the PureFilters Promise
PureFilters was founded with one mission - to help Canadians enjoy clean water and air at an affordable price. From quality products to hassle-free returns, and superior customer service, our team at PureFilters goes above and beyond to help you enjoy your home. If you need help with your order, feel free to contact us via live chat, or email us at support@purefilters.ca.