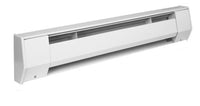 King Electric Baseboard Heater 48" 1000W120V White
King Electric Baseboard Heater 48" 1000W120V White
4K1210BW King Electric Baseboard Heaters, White 1000W 120v 48" Long




Ideal for Homes, Apartments or Rental property

Low initial cost and low maintenance




Use along outside walls to cover cold floors with a blanket of heat




Dimensions: 6-3/4" H x 3-3/8" W x 48" L




Baseboard heaters are an economical way to provide heat. Quality components guarantee long-lasting, reliable heater.
Product Features:
 Convection Heat

 Quiet Running

 Backwire design

 Built-in cable clamps

 Crushproof element

 All-aluminum element

 Full length safety cutout

 Baked enamel finish

 Standard color: almond (-A)

 Electrogalvanized 20 gauge front cover, 22 gauge back can

 Reinforced cover

 Soft contoured corners

 7/8" in diameter knockouts for ½" conduit


 Removable reflector
Shop with Confidence 
PureFilters was founded with one mission - to solve indoor air and water pollution problems by providing filtration solutions at an affordable price.  We do this by providing Canadians' with quality products, free shipping (on all orders over $80 within Canada), hassle-free returns, and superior customer service. 
If you need help with your order, feel free to contact us via live chat, or email us at support@purefilters.ca.