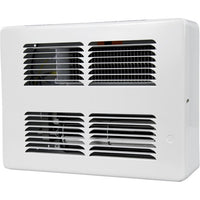 King Electric Wall Heater Slim Line 250-1500W Pic-A-Watt 120V, Surface Mount
King Electric Wall Heater Slim Line 250-1500W Pic-A-Watt 120V, Surface Mount
This high-efficiency heater is equipped with a silent axial fan that blows air over a durable tubular heating element with fins producing warm air circulation throughout the room. The heater's clean lines and rounded corners will match perfectly with all interior styles. For the best results use with an electronic line voltage wall thermostat. Sold separately.
This unique King design allows you to change the wattage of the heater by simply disconnecting a color coded terminal. But the best feature of this trendsetting heater is how quiet it is. The high mass steel element transfers heat quietly and efficiently. This is our most popular heater for a single family residence or upscale condominium.
Zero clearance to insulation Zero clearance to floor 6" from adjacent wall.

Can be used with internal mount thermostats or most Line Voltage Thermostats.

Volts: 120




Wattage: 250, 500, 750, 1000, 1250 Or 1500 Pic A Watt.




CFM: 65




Size: ( Inches ) 13-5/8 W x 10-3/8 H x 4 D




Color: Bright White.




Blower: C frame Motor with cylindrical blower




Thermal Overload




Weight ( Lbs. ) 11
Breathe Easy With The PureFilters Promise
PureFilters was founded with one mission - to help Canadians enjoy clean and healthy indoor air at an affordable price. From quality products to hassle-free returns, and reliable customer service -  our team at PureFilters goes above and beyond to help you enjoy quality indoor air. 
If you need help with your order, feel free to contact us via live chat, or email us at support@purefilters.ca.