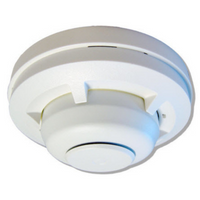 Mircom Heat Detector, 135ºF - 5621A
Mircom Heat Detector, 135ºF - 5621A

System Sensor's 5600 series mechanical heat detectors offer a low-cost means for property protection against fire, and for non-life-safety installations where smoke detectors are inappropriate.
To satisfy a variety of installations, the 5600 series easily mounts to single-gang and octagonal back boxes. These models also accommodate four-square back boxes, when used with a square to roundplaster ring. The mounting bracket is reversible to allow for flush and surface-mount back box installations.
The 5600 series provides clear markings on the exterior of the unit to ensure that the proper detector is being used. Alphanumeric characters identify the activation method, as well as the temperature rating, in degrees Fahrenheit and Celsius. Fixed temperature models are identified "FX", while combination fixed/rate-of-rise units are marked "FX/ROR". The 5600 series also provides a post-activation indicator in the form of a collector. Once the detector has been activated, the collector drops from the unit, to easily identify the specific unit in alarm
   
Circuit: Dual




Identification Method on Exterior: Lettering




Temperature Rating: 135°F (57°C)




Activation: Fixed Temperature / Rate-of-Rise




UL Protected Spacing - 10 Foot Ceiling: 50 feet × 50 feet (15.24m × 15.2m)

SKU# 5621A
Shop with Confidence 
PureFilters was founded with one mission - to help Canadians enjoy clean and healthy indoor air at an affordable price. We do this by providing quality products, free shipping across Canada (on all orders over $80), hassle-free returns, and superior customer service. If you need help with your order, feel free to contact us via live chat, or email us at support@purefilters.ca.