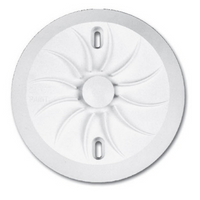 Mircom Heat Detector, 135ºF - TD135
Mircom Heat Detector, 135ºF - TD135

A neutral white exterior and an unobtrusive, low profile housing make the TD heat detector blend onto any ceiling. The plastic housing fits onto any standard octagon or square electrical box with a trim plate. The unit will protrude no more than 1" below the surface of the finishing ceiling.
Using a bi-metal disc as a heat sensing element, an alarm is initiated when the air temperature exceeds the unit's rated level. Only when the air temperature decreases below the rated level will the detector automatically reset.
   
Fixed Temperature




ULC Listed




Self Restoring




Complementary, low profile white exterior




Mounts onto standard octagon or square box with trim plate




Automatic reset

SKU# TD-135
Shop with Confidence 
PureFilters was founded with one mission - to help Canadians enjoy clean and healthy indoor air at an affordable price. We do this by providing quality products, free shipping across Canada (on all orders over $80), hassle-free returns, and superior customer service. If you need help with your order, feel free to contact us via live chat, or email us at support@purefilters.ca.