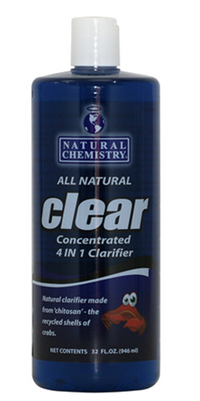 Natural Chemistry Clear 32oz
Natural Chemistry Clear 32oz
Clear is a natural clarifier made from the shells of crabs and various sea life. Crabs and other crustaceans have a product in their shells called "Chitosan" that attracts small particles of debris in water. Use to effectively and quickly clear problem water or to "polish" dull water by removing small suspended particles. Clear is compatible with all sanitizing systems and is environmentally friendly.
All natural chitosan based clarifier
Highest available concentration in the industry
Non-toxic and biodegradable
Clears water quickly
Cannot be overdosed!
No mixing required
Tips & Info:
Clear cannot be overdosed.
Make sure your jets are pointed at a 45 degree angle for maximum circulation
Color is blue
You may swim immediately after adding, however it is not advisable to swim if you cannot see the bottom of your pool
PureFilters - Canada's Leading Pool Supply Company
We deliver affordable pool supplies directly to your door to save you time and money.    This allows you to focus on what really matters - enjoying your pool. 
Affordable quality products, fast delivery, and reliable customer service is what sets PureFilters apart. Shop with us to find out for yourself. If you need help placing your order, we're here to help - contact us via our live chat or at support@purefilters.ca.