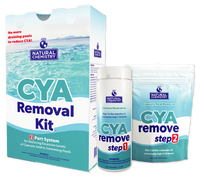 Natural Chemistry CYA Removal Kit
Natural Chemistry CYA Removal Kit
Two-part system for reducing excessive levels of cyanuric acid in swimming pools.
CYA Removal Kit efficiently removes cyanuric acid from pool water. This revolutionary two-part system works without the need to drain or dilute water from a pool.
CYA Removal Kit takes cyanuric acid (also known as CYA, stabilizer or conditioner) out of pool water. Prolonged use of stabilized chlorine can cause CYA levels to build up over time. CYA Removal Kit reduces high levels of cyanuric acid to help you achieve the ideal range for a swimming pool of 30-50ppm.
Natural Chemistry® 17431NCM CYA Removal Kit™ 6 per Case
PureFilters - Canada's Leading Pool Supply Company
We deliver affordable pool supplies directly to your door to save you time and money.    This allows you to focus on what really matters - enjoying your pool. 
Affordable quality products, fast delivery, and reliable customer service is what sets PureFilters apart. Shop with us to find out for yourself. If you need help placing your order, we're here to help - contact us via our live chat or at  support@purefilters.ca.