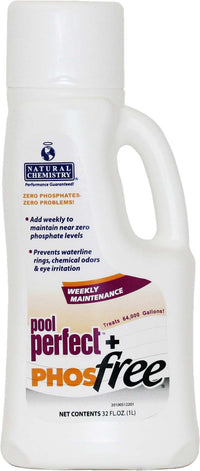 Natural Chemistry Pool Perfect® + Phosfree® 2L
Natural Chemistry Pool Perfect® + Phosfree® 2L
Regular pool maintenance is easy with Natural Chemistry's Pool Perfect + PHOSfree. The benefits of our SMARTZyme™​ technology combined with our phosphate removal provides superior water quality with less work. Pool Perfect + PHOSfree​ is added to the skimmer and contains a non-clouding phosphate remover.
Add weekly to maintain near zero phosphate levels.

Cleans waterline and filter while reducing surface oils and other non-living organics.

SMARTZyme technology reduces frequency of filter cleaning and scrubbing scum lines.

The benefits of Pool Perfect and Phosfree combined.

Weekly dosage will improve water quality and reduce maintenance.
Instructions
This product is designed for use in properly balanced water
 Shake the bottle well as the contents may settle.

Each week add 1 capful per 8,000 gallons of water down the skimmer with the circulation system running.

Proceed with regular operation.
Please Note: Sanitizer level should be below 5ppm before adding this product. 
PureFilters - Canada's Leading Pool Supply Company
We deliver affordable pool supplies directly to your door to save you time and money.    This allows you to focus on what really matters - enjoying your pool. 
Affordable quality products, fast delivery, and reliable customer service is what sets PureFilters apart. Shop with us to find out for yourself. If you need help placing your order, we're here to help - contact us via our live chat or at  support@purefilters.ca.