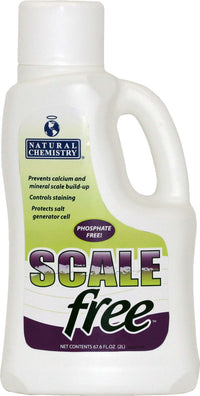 Natural Chemistry Scalefree® 2L
Natural Chemistry Scalefree® 2L
Scalefree protects pools from the damaging effects of scale buildup and staining due to excessive calcium, iron, copper, and other minerals. It works without the use of phosphates or harsh acids. Scalefree also works to prevent scale from forming on salt generators cells, helping to maintain optimum performance.
Phosphate and acid free formula

Compatible with all pool surfaces

Protects against calcium and mineral scale buildup

Controls metal staining

Helps protect salt generator cells from life shortening damage caused by scale 
Note:​ This product can be used with most sanitizing systems and is compatible with all pool surfaces. Do not use with biguanides.
Instructions 
Do not exceed recommended dose.

Note:​ Cationic polymers used in many clarifiers, flocculants and polyquat algaecides should not be dosed to swimming pool water at the same time as metal control products. Cloudy water, precipitation and reduced product effectiveness may result. Wait 24 hours between additions.

Do not use with biguanides.

This product is designed for use in properly balanced pool water.

Following dosage chart in the images section, add the recommended initial dosage of Scalefree​ to the pool water evenly around the edges.

Note: If water hardness level in existing pool water is above 400ppm (parts per million), follow recommendations for fresh fill initial dose. Brushing is required. After initial dose, proceed with double the recommended monthly dosage.
PureFilters - Canada's Leading Pool Supply Company
We deliver affordable pool supplies directly to your door to save you time and money.    This allows you to focus on what really matters - enjoying your pool. 
Affordable quality products, fast delivery, and reliable customer service is what sets PureFilters apart. Shop with us to find out for yourself. If you need help placing your order, we're here to help - contact us via our live chat or at support@purefilters.ca.