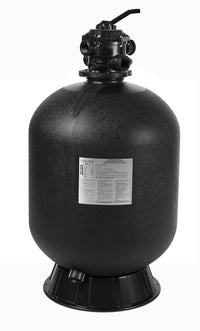 Pentair Cristal-Flo 2 145362 - Sand Pool Filter 24"
Pentair Cristal-Flo 2 145362 - Sand Pool Filter 24"
Overview:

For residential inground or aboveground swimming pools requiring turnover through 59,000 gallons. Permanent media high rate sand filters in multiple diameter models accommodate large and small pools, offering the best combination of economy, performance, durability and ease of maintenance. Corrosion-resistant, one-piece, extra-thick molded polyethylene tank assures long service life. Top-mounted, corrosion-resistant multiport selector valve included. Also includes a convenient tank winterizing drain and continuous air relief system.
Sand Required: 300 lb (6 Bags) - sold separately 
Description:
You won't burn many calories maintaining the Sta-Rite® Cristal-Flo II sand filter. A little two-way wrist action on the control valve puts the Cristal-Flo II filter to work cleaning itself. And this is one workout routine you won't have to do very often. Through innovative engineering, the filter's dirt-handling capacity is maximized, which extends the time between cleanings (backwashing). But best of all, the Cristal-Flo II filter promises to make your pool water sparkle in the sun and shimmer in the moonlight.
Sand is the most widely used filtration method for swimming pools. Convenience, low maintenance and water quality are the reasons for sand's popularity. The Cristal-Flo II filter is a time-tested favorite with pool owners due to its extended maintenance cycles, easy-to-operate control valve selector and outstanding water clarity. The biggest reason for installing a Cristal-Flo II filter: the additional leisure time you'll spend enjoying your pool.
Top-mount, 6-position, 1.5" multi-port valve features a pressure gauge and manual air relief for optimum filtration efficiency.

Internal design ensures that water is exposed to maximum sand surface area for superior filtration performance and efficient backwashing.
PureFilters - Canada's Leading Pool Supply Company 
We deliver affordable pool filters & pool supplies directly to your door to save you time and money. This allows you to focus on what really matters - enjoying your pool. Quality products, fast delivery, and reliable customer service, have helped us become one of Canada's top pool suppliers in Canada. Find out for yourself by shopping with us. 
If you need help placing an order, feel free to reach out via our live chat or at support@purefilters.ca.