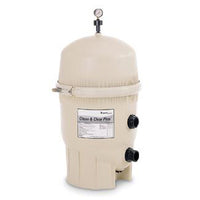 Pentair Clean n Clear Plus 160310 - Pool Cartridge Filter 240SqFt
Pentair Clean n Clear Plus 160310 - Pool Cartridge Filter 240SqFt
Clean & Clear Plus Filters have a corrosion resistant injection molded filter tank featuring superior strength and reliability. The cartridge assembly uses four easy to clean, non-woven, polyester cartridges. Each filter is supplied with a bulkhead union set for easy installation.
Key Features:
Fiberglass reinforced polypropylene tank



NSF listed
Superior strength
Large filter area for increased dirt capacity
1-1/2 in., 100% drain clean-out port
Continuous High Flow™ Internal Air Relief*
Base and plumbing kits now available
Injection molded tank
Balanced hydraulic flow
Tension Control™ Clamp
100% factory tested
Black bulkhead unions
High Flow manual air relief valve
PureFilters - Canada's top pool filter company
We deliver affordable pool filters & pool supplies directly to your door to save you time and money. This allows you to focus on what really matters - enjoying your pool. Quality products, fast delivery, and reliable customer service, have helped us become one of Canada's top pool suppliers in Canada. Find out for yourself by shopping with us. 
If you need help placing an order, feel free to reach out via our live chat or at support@purefilters.ca.