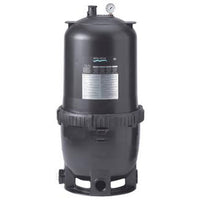 Pentair System 2 PLM100 - Modular Media 100 Sq ft. Pool Filter
Pentair System 2 PLM100 - Modular Media 100Sqft Pool Filter
Sta-Rite's modular media filtration is the perfect match for both the inground and aboveground pool markets. Advances in media technology and balanced flow design provide dirt-loading capabilities up to 15 times greater than sand filters of equivalent size. Virtually maintenance-free operation for today's pool owner. The small diameter footprint makes the System:2 filter a perfect fit for new and retrofit installations. The interchangeable ports provide multiple plumbing options. 
Modular Filter Tanks allow for quick change of filter media without changing the tank. Contemporary style and matte black finish looks attractive in any pool setting
Key Features:
Typical Installation – Aboveground pools, inground pools, and inground hot tubs
Quality Construction – Durable two-piece tank housing constructed of rugged ABS thermoplastic to ensure a long-lasting tank life
Easy Access – Posi-Ring® locking ring provides fast access to tank internals
Innovative Deisgn - The innovative balanced flow design first introduced with the System:3 Mod Media filter is now available in the smaller System:2 filter, virtually maintenance-free operation for pools of all sizes.
Low Maintenance – Complete media coverage combined with shallow pleats means greater dirt holding capabilities, resulting in longer filter cycles and less cleaning
Large Drain Plug – Filter includes 2" NPT Drain ports, which are provided with reducer bushing and 1-1/2" drain plug
PureFilters - Canada's Leading Pool Supply Company 
We deliver affordable pool filters & pool supplies directly to your door to save you time and money. This allows you to focus on what really matters - enjoying your pool. Quality products, fast delivery, and reliable customer service, have helped us become one of Canada's top pool suppliers in Canada. Find out for yourself by shopping with us. 
If you need help placing an order, feel free to reach out via our live chat or at support@purefilters.ca.