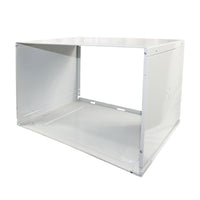 Perfect Aire Built-In Air Conditioner Sleeve, 24"
Perfect Aire Built-In Air Conditioner Sleeve, 24" 
Product Features:

Fits all standard 24-in. Thru-the-Wall AC units

Minimize heat loss and reduce outdoor noise transmissions into the room

Quality galvanized steel construction with a durable painted finish

Easily adjustable: includes adjustable mounting brackets and locking clips

Weather safe: protects unit with weather-tight seal


Contains front and rear cover panels to seal the sleeve when unit is removed
Product Specifications:
| | |
| --- | --- |
|   Colour: | White |
|   Depth (in): | 17-1/2" |
|   Height (in): | 15-1/4" |
|   Width (in): | 25-1/2" |
Breathe Easy With The PureFilters Promise
Clean and healthy indoor air is essential to our well-being, and Canadians deserve a company that gets it right. PureFilters was founded with one mission - to help Canadians enjoy healthy indoor air at an affordable price. PureFilters sources its products directly from manufacturers, cutting out retailers and passing the savings on to you - our valued customer. 
With Purefilters you get quality products, reliable customer service, free shipping across Canada, hassle-free returns, and a 30-day money-back guarantee.
Need help with your order? We're here to help - connect with us via live chat or email us at support@purefilters.ca.