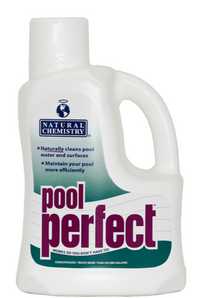 Pool Perfect - Natural Choice Chemical, 3L
Pool Perfect - Natural Choice Chemical, 3L
Pool Perfect by Natural Choice reduces scum lines and filter cleanings.
This concentrated SMARTZyme™ technology breaks down suntan oils, cosmetics, body oils and other non-living organic waste in pool water.

Pool Perfect reduces black waterline rings. Just add it to the water - minimize the need for scrubbing!

Saves time and labor, keeping pools clean and water sparkling.

Pool Perfect also acts as a continuous filter cleaner. It eliminates oils and other non-living organics that clog filters and reduce efficiency. Save time and money on filter maintenance.

Compatible with all sanitizers.
PureFilters - Canada's Leading Pool Supply Company
We deliver affordable pool supplies directly to your door to save you time and money.    This allows you to focus on what really matters - enjoying your pool. 
Affordable quality products, fast delivery, and reliable customer service is what sets PureFilters apart. Shop with us to find out for yourself. If you need help placing your order, we're here to help - contact us via our live chat or at support@purefilters.ca.