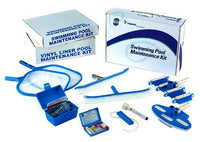 Pool Maintenance Kit #137 (R131066)
Pool Maintenance Kit #137 (R131066)
This handy pool maintenance kit is a breeze to use and has everything you need to maintain and keep your swimming pool sparkling clean.
The kit includes:
752 Test Kit; 2-in-1 Test Kit, 1/2 oz OTO and Pre-Blended pH, CL range 0.3-3.0, in a blue hinged case

127 Thermometer; Tube style, ABS case 3' cord

194 Vacuum; Econo triangular

902 Brush; 18" Aluminum back white polypropylene bristles

126 Leaf Net; Professional grade heavy duty skimmer, 3/8" solid aluminum rod, deep net molded into ABS snap-on replacement frame
PureFilters - Canada's Top Pool Supply company
We deliver affordable pool filters & pool supplies directly to your door to save you time and money. This allows you to focus on what really matters - enjoying your pool. Quality products, fast delivery, and reliable customer service, is what makes PureFilters one of Canada's top pool suppliers in Canada. If you need help placing an order, feel free to reach out via our live chat or at support@purefilters.ca.