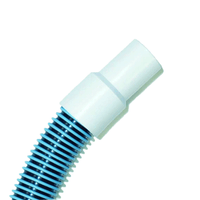 PoolStyle 1.25"x30' Deluxe Series Pool Vacuum Hose With Swivel Cuff
PoolStyle 1.25"x30' Deluxe Series Pool Vacuum Hose With Swivel Cuff
For use with most vacuum heads and all pool types, this deluxe vacuum hose features a spiral-wound deign that provides superior flexibility that won't bend or crush. Let the hose work with you as you circumnavigate the pool while cleaning. A swivel cuff is provided for attaching directly to the hose adapter on the vacuum in order to give you the kink-free maneuverability while cleaning. UV protected and chemical resistant, this hose is designed for maximum efficiency.
Features:
PoolStyle BO520114030PCO PS774 1.25x30' Deluxe Series Vac Hose W/ Swivel Cuff

Hose for cleaning maintenance of above and in ground pools

UV protection and abrasion resistance

Diameter: 1.25"

Length: 30'
PureFilters - Canada's Top Pool Supply company
We deliver affordable pool filters & pool supplies directly to your door to save you time and money. This allows you to focus on what really matters - enjoying your pool. Quality products, fast delivery, and reliable customer service, is what makes PureFilters one of Canada's top pool suppliers in Canada. If you need help placing an order, feel free to reach out via our live chat or at support@purefilters.ca.