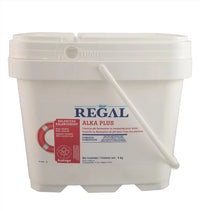 Regal 4kg Alka Plus
Easy-to-use, this granular product raises total alkalinity in the pool and acts as a buffer to prevent pH bounce, staining, and corrosion.
Regal 30-60980-04 4kg Alka Plus (Sodium Hydrogen Carbonate)

Raises Total Alkalinity in Water

Contributes to Optimal Sanitizer Performance




Protects Pool Surfaces from Staining and Corrosion




Helps Prevent pH Fluctuation
PureFilters - Canada's Leading Pool Supply Company
We deliver affordable pool supplies directly to your door to save you time and money. This allows you to focus on what really matters - enjoying your pool. 
Affordable quality products, fast delivery, and reliable customer service is what sets PureFilters apart. Shop with us to find out for yourself. If you need help placing your order, we're here to help - contact us via our live chat or at  support@purefilters.ca.