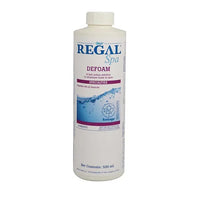 Regal 500ML DEFOAM
DEFOAM destroys existing foam in spa water and prevents future accumulations. DEFOAM is designed to be used in ventilated and heated water. A quick result allows you to enjoy your spa quickly.
Regal 29-60405-50 500mL Defoam

Fast Acting Solution to Eliminate Foam in Spas

Compatible with all Chemicals
PureFilters - Canada's Leading Pool Supply Company
We deliver affordable pool supplies directly to your door to save you time and money. This allows you to focus on what really matters - enjoying your pool. 
Affordable quality products, fast delivery, and reliable customer service is what sets PureFilters apart. Shop with us to find out for yourself. If you need help placing your order, we're here to help - contact us via our live chat or at  support@purefilters.ca.