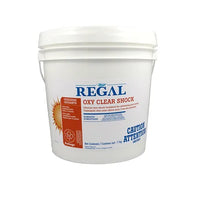 Regal 7kg Oxy Clear Shock
Regal 7kg Oxy Clear Shock
Regal 30-60330-07 7kg Oxy Clear Shock (Non-Chlorine Shock/Oxidizer)

Oxy Clear Shock performs effectively as a shock treatment in reducing organic contamination of swimming pool water.

Eliminates chlorine smell and reduces skin and eye irritation.

This oxidizing and reactivating treatment restores pool water clearness and ensures longer lasting chlorine power.

Ideal as initial treatment at the start of the season followed by the use of a sanitizer.

Fast acting, non-chlorine oxidizer.

Swim in 15 minutes and returns sparkle to dull flat water.

Helps eliminate unpleasant odours and eye irritation.
PureFilters - Canada's Leading Pool Supply Company
We deliver affordable pool supplies directly to your door to save you time and money. This allows you to focus on what really matters - enjoying your pool. 
Affordable quality products, fast delivery, and reliable customer service is what sets PureFilters apart. Shop with us to find out for yourself. If you need help placing your order, we're here to help - contact us via our live chat or at  support@purefilters.ca.