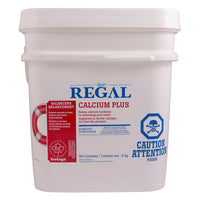 Regal 8kg Calcium Plus
Regal Calcium Plus increases the calcium hardness in swimming pool water.

The addition of Regal Calcium Plus prevents corrosion of metal surfaces and erosion of pool surfaces.

Calcium Plus will help protect plumbing, equipment and pools surface.

Proper calcium levels are a key component to water balance and will ensure better comfort for swimming pool bather's.
Directions
To achieve maximum balance of pool water, your pool water's calcium hardness should be between 200 - 300 parts per million (ppm). 
Check calcium hardness using a testing kit. The ideal recommended level is 200-300 ppm. 

To increase calcium hardness by 10 ppm, dissolve in a bucket of water 120 g of Regal Calcium Plus per 10,000 L of swimming pool water. 

Add mixture to pool water. 

Check calcium hardness levels regularly and make necessary adjustments. 
PureFilters - Canada's Leading Pool Supply Company
We deliver affordable pool supplies directly to your door to save you time and money.    This allows you to focus on what really matters - enjoying your pool. 
Affordable quality products, fast delivery, and reliable customer service is what sets PureFilters apart. Shop with us to find out for yourself. If you need help placing your order, we're here to help - contact us via our live chat or at  support@purefilters.ca.