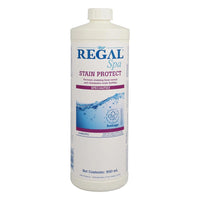 Regal 900mL Stain Protect
Regal 900mL Stain Protect
Regal 29-60121-90 900mL Stain Protect

Stain Protect naturally prevents staining and water colouration from metals in spa water.

Used on a regular basis, it also prevents corrosion of the spa equipment.

It eliminates and prevents scale build-up on spa surfaces.

Spa can be used immediately after the addition of Stain Protect.

Its natural and biodegradable formula also makes it safe for the environment and does not add phosphates to the water.
PureFilters - Canada's Leading Pool Supply Company
We deliver affordable pool supplies directly to your door to save you time and money. This allows you to focus on what really matters - enjoying your pool. 
Affordable quality products, fast delivery, and reliable customer service is what sets PureFilters apart. Shop with us to find out for yourself. If you need help placing your order, we're here to help - contact us via our live chat or at  support@purefilters.ca.