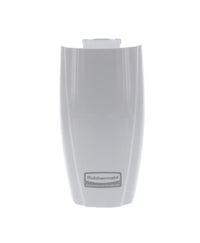 Rubbermaid TCell Dispenser, White
Rubbermaid TCell Dispenser, White
Rubbermaid Commercial Products' TCell™ System is the world's first continuous odor control system. Utilizing its patented delivery system, only TCell consistently delivers a precise dose of high-quality fragrance blended with Microtrans®, a true odor neutralizer, for 60 or 90 days without the use of batteries.

Only passive system delivering consistent dosing over 60 or 90 days.

One dispenser covers approximately 3 to 4 stalls/fixtures (6,000 cubic feet)

Compact, silent operation.

Sleek, attractive cabinet design will fit any décor.

Easy-to-use system requires no programming.

Features unique 90-degree spill protection.

Tamper-resistant.


Part of coordinated suite of washroom products.
Breathe Easy With The PureFilters Promise
Clean and healthy indoor air is essential to our well-being, and Canadians deserve a company that gets it right. PureFilters was founded with one mission - to help Canadians enjoy healthy indoor air at an affordable price. PureFilters sources its products directly from manufacturers, cutting out retailers and passing the savings on to you - our valued customer. 
With Purefilters you get quality products, reliable customer service, free shipping across Canada, hassle-free returns, and a 30-day money-back guarantee.
Need help with your order? We're here to help - connect with us via live chat or email us at support@purefilters.ca.