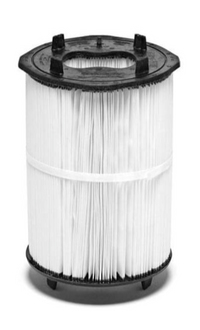 Sta-Rite/Pentair (System 2 PLM150) Pool Replacement Cartridge 27002-0150S (150 Square Feet)
Sta-Rite/Pentair (System 2 PLM150) 
Pool Replacement Cartridge 

27002-0150S (150 Square Feet)

 

The Pentair 27002-0150S Filter Module Cartridge for System:2 PLM Series Modular D.E. PLM150 Filters has a media area of 150 Square Feet and is made of superior reinforced polyester pleated material with polyurethane end caps.

Sta-Rite/Pentair reusable cartridge filter elements are made of a superior reinforced polyester material. Sta-Rite/Pentair pool replacement cartridges provide a high degree of water clarity and longer filter cycles. To maintain your pool water cleanliness and clarity, Sta-Rite/Pentair genuine replacement cartridge elements are the number one choice in cartridge filtration.

 

Key Features:
150 square feet
For System 2 PLM150 filters
Measurements: 13-3/4 x 21 inches.
High-quality, reinforced polyester elements provide maximum filtration area.
Genuine

Pentair / Sta-Rite

replacement part
PureFilters - Canada's Leading Pool Supply Company
We deliver affordable pool filters & pool supplies directly to your door to save you time and money. This allows you to focus on what really matters - enjoying your pool. Quality products, fast delivery, and reliable customer service, have helped us become one of Canada's top pool suppliers in Canada. Find out for yourself by shopping with us. 
If you need help placing an order, feel free to reach out via our live chat or at support@purefilters.ca.